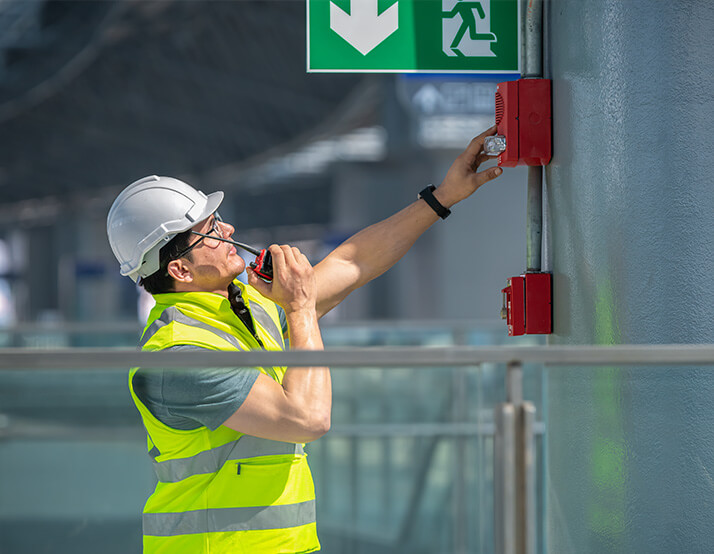 Fire Detection
Fires are emergencies that can escalate from minor to catastrophic very quickly. That means it is imperative for commercial property owners to maintain working fire alarm systems in their buildings at all times. Install one of our commercial fire alarm systems to protect your customers, employees and your property. Our fire alarm systems may include:
Strategically placed manual pull stations help with building evacuation efforts.

Smoke and heat detectors are an automatic devices, active 24 hours a day for your safety.

Audio visual devices sound during a fire alarm and assist with getting people out of the building.
Protect your people and your property with a commercial fire alarm system.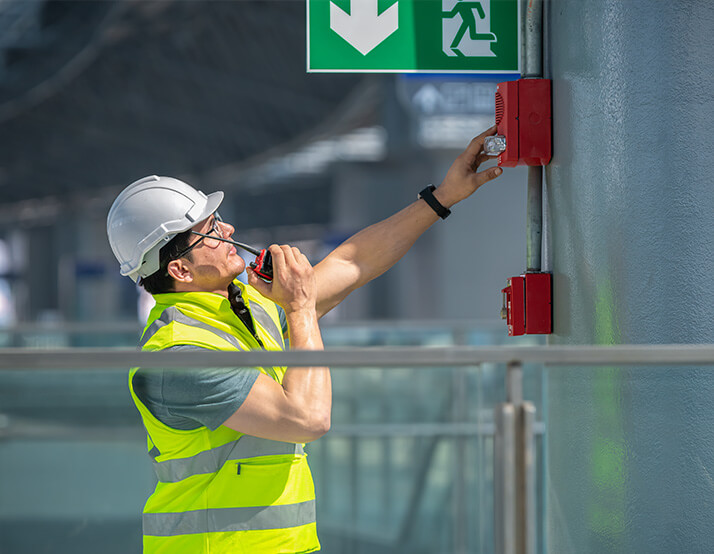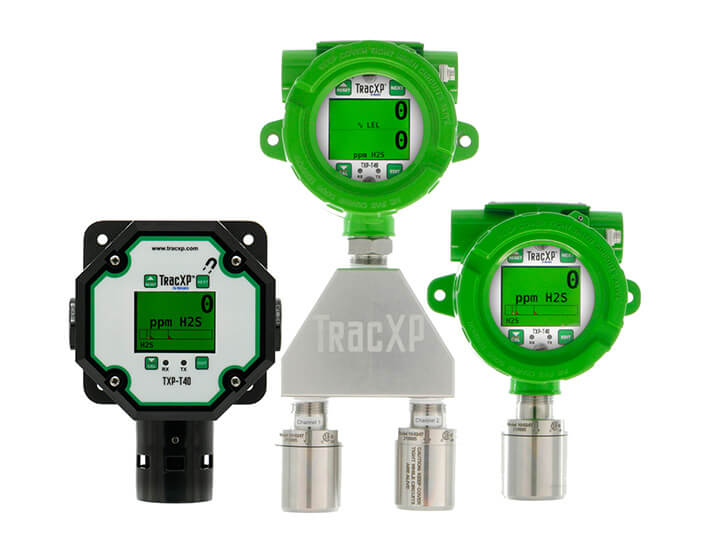 Carbon Monoxide & Gas Detection
When it comes to Life Safety, fire is not the only thing we're concerned with.  A gas leak can be just as devastating if not handled properly, and in a timely manner.  Carbon Monoxide is an odorless gas, so you can't see or smell it.  In a commercial building, there are a number of things that can generate these gases.  If you oversee a commercial property, it is your responsibility to take safety measures for tenants, employees, customers, and other guests:
Maintained carbon monoxide detectors ensure personal safety

A carbon monoxide alarm activates a unique sound from the detector, and triggers an amber color strobe to warn people of the condition.

Other hazardous gases can be addressed with a custom gas detection system. Often found in classified explosion proof rooms.

 
Protect against hazardous gas leaks with strategically placed gas and carbon monoxide detectors.
Building Systems Connection
With any commercial building, there are other life safety systems in place, and typically they need to be connected to the fire alarm.  While we don't install these other systems, we're tasked with connecting to them.  This requires us to know and understand these technologies, and to have good relationships with the partners we're interacting with.  Some building systems we connect to are:
We monitor the sprinkler system through waterflow, pressure and tamper switches.

Kitchen ansul / hood systems are monitored with a micro switch.

We connect to elevators to provide recall, sending the elevator car away from a fire.
You can count on us to provide effective safety solutions for our commercial clients.
System Design
We design our systems in AutoCad, to today's code standards, and with your safety in mind.
Installation
Every system is correctly installed by one of our expert fire alarm technicians.
24/7 Monitoring
We offer live operator monitoring day and night for your safety and peace of mind.
Inspection
Annual inspections are part of our service agreement. We test your fire alarm every year to ensure your system is working properly.
Service
Anytime you need us, we will be there to service your system.
FIRE-LITE ALARM SOLUTIONS
Fire-Lite specializes in cost-effective fire alarms for small to mid-sized buildings. Their state-of-the-art alarms are built to meet the needs of schools, hospitals, government buildings, retail spaces, and other commercial and multi-tenant properties.